2022 Race Roster
BIB and WAVE ASSIGNMENTS — Posted May 30! View the ALPHABETICAL LISTS by clicking on the individual roster divisions.
***UPDATED JUNE 20 —
– View PDF rosters by AGE GROUPS
– View PDF rosters by SEQUENTIAL BIB NUMBERS
Wave 1 — Bibs 1-125 for men and 1-120 for women
Top 93 men and Top 84 women from 2021, plus other racers with strong credentials.

Wave 2 — Bibs 201-330 for men and 210-320 for women
Generally Middle-of-the-pack racers from 2021 and 2019

Wave 3 — Bibs 401-530 for men and women
Generally Back-of-the-pack racers from 2021 and 2019, and first-time racers who listed no credentials.
Juniors — Mass start for all boys and girls together
Girls — Bibs 1-135
Boys — 201-360
WAVE CHANGE REQUESTS — The deadline for wave change requests was Monday, June 6.
YELLOW – Denotes lottery winners. See 2022 lottery odds listed below.
WHITE – Denotes Priority Status obtained through a variety of methods.
PINK — Denotes One-Time Petition (9 individuals), One-Time Earned Entry (3) or Sponsor slots (3). These entrants do not have Priority Status and are not eligible to requalify through the Top 50 Percent Age Group Rule.
Lottery odds from 2022:
WOMEN: 118/269 (43.8 percent)
MEN: 109/478 (22.8 percent)
GIRLS: 57/57 (100 percent)
BOYS: 54/69 (78.2 percent)
Bib assignment issues should be directed to: director@mountmarathon.com
Roster and registration issues should be directed to: register@mountmarathon.com
Any Deferral requests must be submitted using the Deferral Request process between April 15 and July 31, 2022.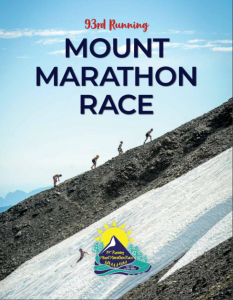 Join the community of Seward for the 94th running of the Mount Marathon Race on Monday, July 4, 2022.
The men's and women's courses are a grueling 1.5-mile climb up, and back down, Alaska's majestic and treacherous Mount Marathon. Runners from around the world join Alaskans in pursuit of a common goal: to safely complete this iconic footrace, whether on the podium or in the pack.
Mount Marathon awaits you, and future generations of bold mountain runners. It's a thrill for both runners and spectators!