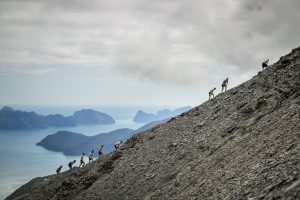 According to folklore …
The tradition of the Mount Marathon Race began when two sourdoughs debated the possibility of climbing and descending the mountain in less than an hour. "Impossible" one said.
To settle the argument, and the resulting wager, a race was held, with the loser to furnish drinks for the crowd. Enterprising merchants put up a suit of clothes and other prizes for the winner and proposed the race take place on a holiday – why not the Fourth of July?
The optimistic sourdough lost his bet. The winning racer took one hour and two minutes.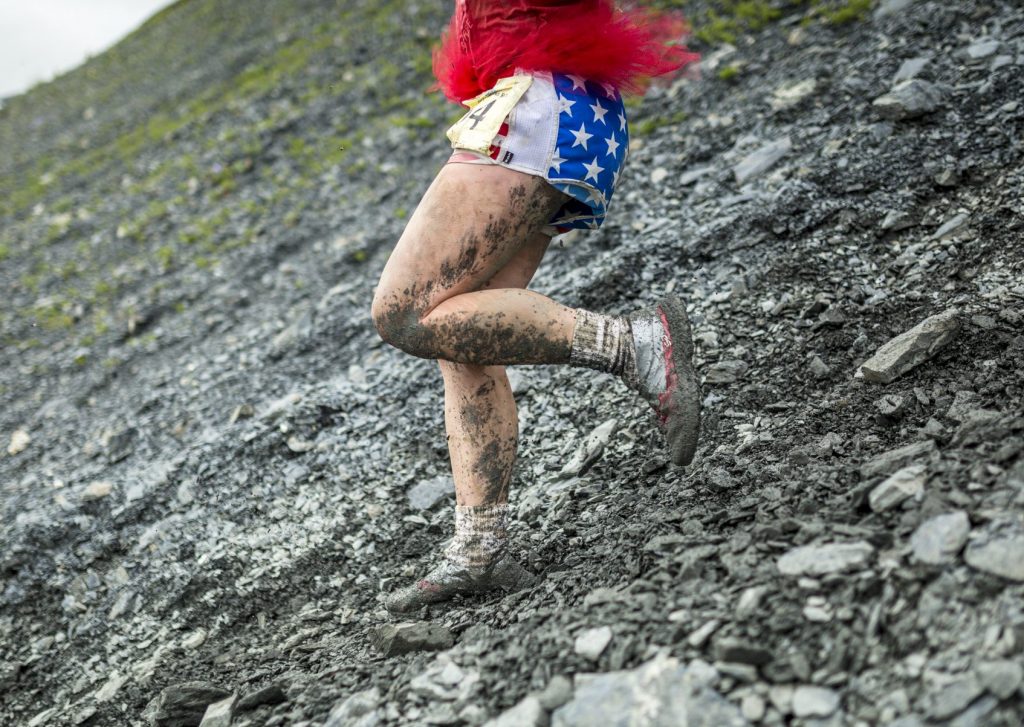 The Mount Marathon Race became an organized run in 1915 and has since become a key part of the Independence Day celebration in Seward. Over the years, this historic event has drawn increased participation and resulted in new milestones.
Pre-1985 — Races capped at a combined 200 runners
1985 — Separate women's race established (54 finished)
1991 — Men's finishers (230) exceeds 200 for first time
Unknown Year (possibly 1991) — Men's race expanded from 200 to 300 entrants
1995 — July 3 auction created
1996 — Women's race reaches capacity of 300 for first time
1997 — Men's race reaches capacity of 300 in 48 hours
1998 — Priority registration established; finishers of last year's race and veteran runners with 10 or more races given priority application status
2003 — Lottery application system established for new racers
2003 — Winners of Alaska Mountain Runners Grand Prix Series races receive one-year special invite to MMR the following year
2004 — Men's and women's races expanded to 350 entrants each
2004 — Men's and women's wave start implemented (only 50 runners in first wave)
2005 — Two equal-sized waves implemented
2007 — Historical tracking of bib numbers in database begins
2010 — Junior races expanded to 250 entrants
2012 — Priority registration tightened to include top 225 (instead of all finishers)
2014 — Top 10 finishers receive one-year invite the following year (designed to capture special invites who otherwise wouldn't requalify)
2016 — Junior race expanded to 300 entrants (150 boys and 150 girls)
2018 — Golden Racer option added
2019 — Waitlist tested (and abandoned)
2019 — Junior race canceled due to wildfire smoke
2020 — Top 50 Percent Age-Group Rule and 10-Year New Racer Repeal Rule added
2020 — Men's and women's races expanded to 375 entrants each; 3rd wave added
2020 — All races canceled due to pandemic
The Oldest U.S. Mountain Race, but not quite the oldest race!
While the Mount Marathon Race is indeed old, it is not the oldest. Below is a list of older races in the United States (information obtained at www.arrs.net). There are 12 footraces older than Mount Marathon, which was first raced in 1915. It's accurate to say Mount Marathon is "among the oldest footraces" or "believed to be the oldest mountain race" in the U.S.
Oldest U.S. Road Races
1896 – Delaware YMCA Turkey Trot 8K
1897 – Boston Marathon
1907 – Jackson Day 9K (New Orleans)
1907 – New Orleans AC Turkey Day 5M
1907 – Yonkers Marathon (N.Y.)
1908 – Run for the Diamonds 9M (Berwick, PA)
1908 – Thanksgiving Day 10K (Cincinnati)
1912 – Bay to Breakers 12K (San Francisco)
1914 – Lexington Patriots Day 5K (Lexington MA)
Oldest U.S. Cross Country Races
1892 – Bemis-Forslund Pie Race 4.3 miles (Gill, MA)
1904 – Schuylkill Navy 5.6 mile (Philadelphia)
1910 – Dipsea Race 6.8 miles (Stinson Beach, CA)
1915 – Mount Marathon Race 5.55K (Seward, AK)