The 2023 races are being Livestreamed for the 2nd straight year by Jensen Hall Creative/Tudor Road Studios! Help spread the word to friend, family and armchair fans around the globe. See links below for each race.
This year's expanded production has no fewer than 17 personnel — announcers Holly Brooks and Andrew Kastning, directors, camera operators (in town and on the mountain), drone operators, an engineer, an audio expert and more!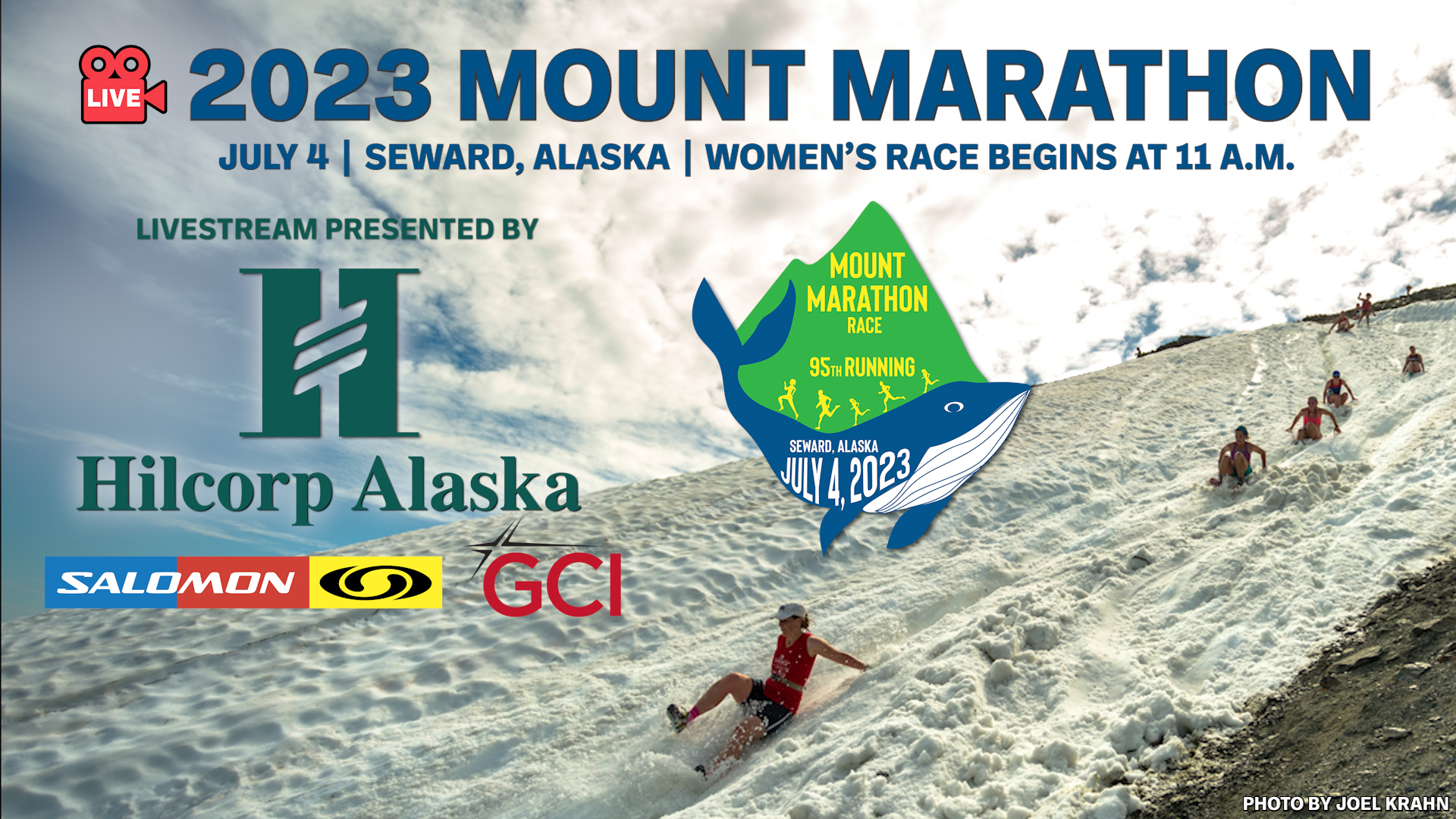 In addition to live broadcast of the races, a separate "Finish Cam" will show all racers as they cross the finish line.
All video streams are available through the Mount Marathon Race YouTube Channel HERE. Those unable to watch on race day can view the races anytime in the future as they'll also be archived there.
Those in Seward on race day can watch the Livestream on a 12-foot screen at the Race Headquarters in the Flamingo Lounge parking lot!
Here are the times and links for each stream (all times AK time):
July 3, 6:45 p.m. – Livestream Preview Show HERE https://www.youtube.com/watch?v=4hUxT_YfkOg
July 4, 9:00 a.m. – Juniors Livestream (no announcers) HERE https://www.youtube.com/watch?v=3Lqg3uKBT0w
July 4, 10:50 a.m. – Women's Livestream HERE https://www.youtube.com/watch?v=M8bfWamsoeo
July 4, 11:30 a.m. – Women's Finish Line Feed HERE https://www.youtube.com/watch?v=ykiATCdb5cs
July 4, 1:50 p.m. – Men's Livestream HERE https://www.youtube.com/watch?v=1JVIE9_Te_k
July 4, 2:30 p.m. – Men's Finish Line Feed HERE https://www.youtube.com/watch?v=ZYQNn1vxaxA
******
Also, here is an article in the 2023 Race Guide about this year's Livestream written by Doyle Woody.
By DOYLE WOODY
Production stalwarts Scott Jensen and Shirley Sakaye will deliver a livestream broadcast of the Mount Marathon Race for the second straight year, and pulling off their best performance on race day requires preparation and execution akin to the runners whose journeys they will document.
Jensen, the livestream's technical producer, and Sakaye, the director, have spent months spit-balling ideas. They've planned for best-case and worst-case scenarios. They've reviewed last year's broadcast. That work matches the months of specific training most Mount Marathon runners log prior to the starter's gun firing on the Fourth of July.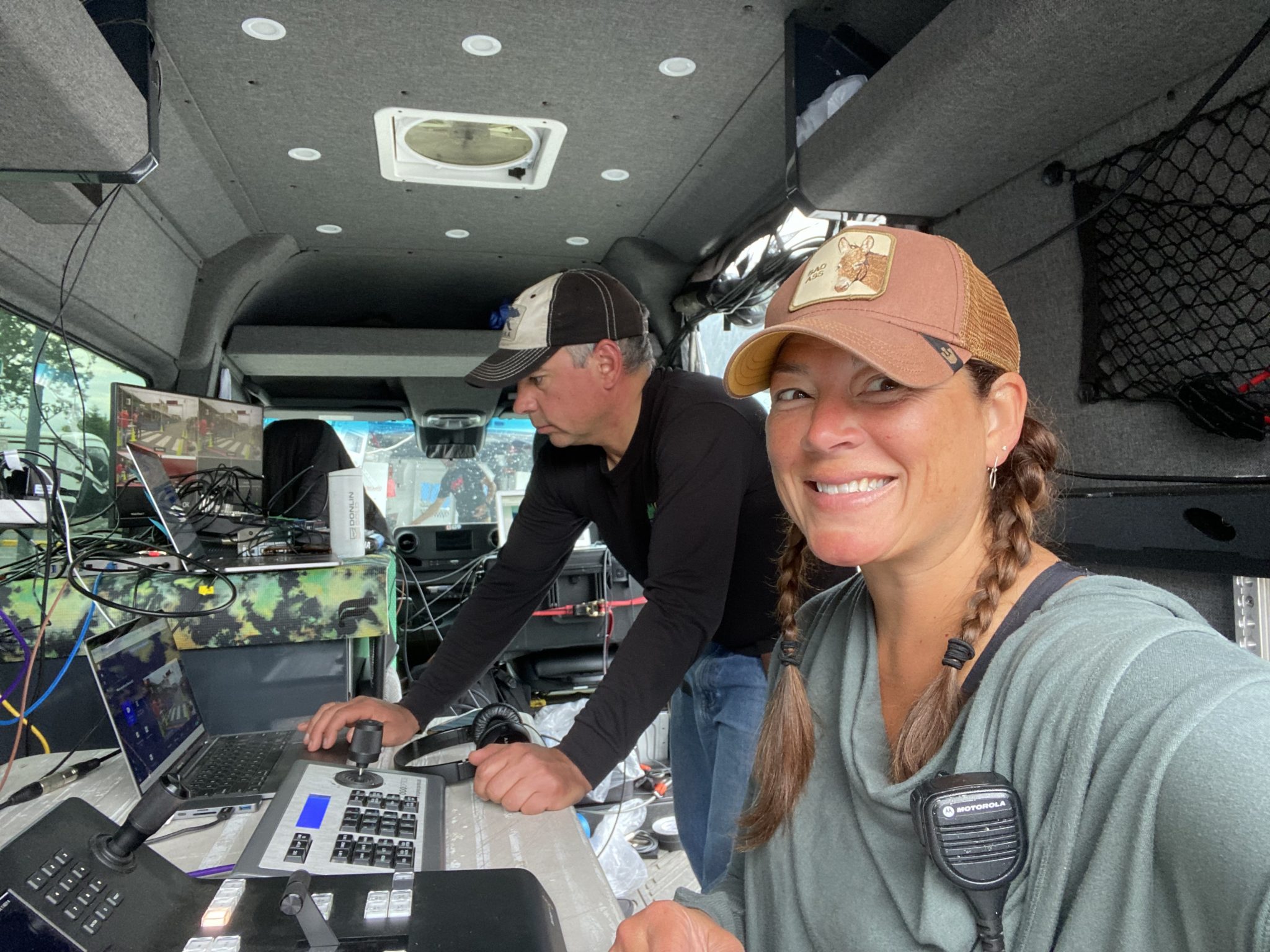 Jensen and Sakaye intend to spend the last few days before July 4 setting up equipment, conducting technical tests, organizing staff and volunteers, and finalizing a game plan. That's like a runner's pre-race checklist for tapering – reducing mileage to refresh the legs while also dialing in nutrition, hydration and sleep – to generate peak performance for the grind up the 3,022-foot peak and the harrowing descent.
And like a longtime racer who possesses experiences both good and bad on which to draw, Jensen and Sakaye will use decades of broadcast experience to adjust on the fly and push perceived limits right to the edge, but not over it. (Presumably, the technical equivalent of a runner bonking/faceplanting is a livestream that goes dark.)
Sounds like a lot.
"I'm not sure why we do this?" Jensen said with a laugh.
"You know what?'' Sakaye added. "I think we're kind of adrenaline junkies. It's actually really fun.''
Jensen, part owner of Tudor Road Studios, which will produce the livestream, and Sakaye have known each other since they were teenagers working at KTUU Channel 2 in the basement of the Fourth Avenue Theatre in 1992. Jensen has been a print and video journalist in Anchorage for decades. Sakaye was a longtime director at KTVA Channel 11. Both have covered Mount Marathon extensively, and they've done so live – both KTUU and KTVA produced live race broadcasts in the past.
But gone are the expensive TV broadcasts that used satellite trucks, cables up and down the mountain and even helicopters for aerial footage. The new model for mountain and trail running events is livestream broadcasting and Mount Marathon was eager to get in on the action.
After a bare-bones trial run in 2022, this year's livestream — with financial help from primary sponsor Hilcorp Alaska — will feature more comprehensive coverage of the action. The will also be a separate "finish line cam" where fans can see all racers cross the line, not just the most competitive.
Both the livestream and the finish cam will be viewable on YouTube Live and Facebook Live with links posted on Mount Marathon's website.
Mount Marathon race director Matias Saari said he wants the livestream to not only chronicle the races and the athletes, but also highlight the town of Seward and the spectacle of a unique sports event.
"We're going to grow this thing and make it better every year,'' Saari said. "My hopes are to have a broadcast that's professional, so people throughout Alaska and beyond can watch and enjoy.''
Jensen said this year's production will include two cameras on the crowded streets of downtown Seward, a camera at mid-mountain and another on the summit, and footage provided by drones. Several volunteer runners, using iPhones on gimbal holders, will also follow racers to create additional footage on the mountain.
Anyone who has tried to make a cell phone call or send a text on race day in Seward – the population of about 3,000 swells to three or four times that, minimum, on race day – knows that can feel like an impossible dream. Jensen said one of Mount Marathon's corporate partners, GCI, has furnished significant technological help that should make for an efficient production.
Former World Cup and U.S. Olympic Nordic skier Holly Brooks, a two-time Mount Marathon champion who last year shared livestream announcing duties and has broadcast several editions of the race, will be among those behind the mic. She's a walking encyclopedia of Alaska mountain running, and has proved capable of illuminating both the big picture and the smaller, colorful details of Mount Marathon and its athletes.
"As far as knowledge, she's incredible, and a big asset,'' Jensen said.
Brooks said she appreciated that Jensen and Sakaye last year gave her and co-host Lex Treinen ample leeway.
"What I really appreciated is I felt they weren't micro-managing,'' Brooks said. "Give me a feed, and I have no lack of things to talk about. We want to do play-by-play, but also tell stories, touch on weather and conditions and training, talk about the pros and the locals. There are so many things to talk about.''
Jensen said he believes the livestream will be a winner.
"I am confident we'll be victorious,'' he said.
A little drama from the races, of course, wouldn't hurt. Take the 2014 women's race, for instance. Brooks led Christy Marvin (another two-time champ) by a whopping 1 minute, 55 seconds as she rounded the rock at the summit and began her descent. Victory seemed assured. Brooks slowed, though, and Marvin ate into Brooks' lead before Brooks crossed the line a winner by a scant two seconds.
"Sport is unpredictable,'' Brooks said, "and that's why we love it.''