This page answers the following frequently asked questions:
Is the race ever canceled?
How long do I have to complete the race?
Can I give my race spot to someone else?
What does the winner get?
How is the race timed?
Why is my race place different than what was posted on race day or in the newspaper?
What time do I need to arrive?
Should I spend the night in Seward?
What if I am injured during the race?
What else is going on in Seward?
Can I bring my dog to watch the race?
How steep is the race course?
Is the race ever canceled?
The adult race has never been canceled due to inclement weather.
However, all races were canceled in 2020 due to the COVID-19 pandemic. Also, the junior race was canceled in 2019 due to unhealthy air quality from wildfire smoke (at 8 a.m. on July 4, 2019, the local Air Quality Index in Seward was 172, which is categorized as "unhealthy").
The race was also canceled from 1920-24 (due to railroad construction), from 1932-38 and in 1942 (due to World War II).
Runners should be prepared for a wide variety of weather conditions — and runners who are uncomfortable with race-day conditions should not participate.
Precipitation can make the shale slippery, and ice and snow patches on the mountain can be treacherous. The summit can be windy with severely reduced visibility, so runners should scout the course in advance to help maintain their bearings.
In the case of future unhealthy air quality, extreme heat, or unexpected occurrence (such as a pandemic), the Seward Chamber of Commerce, in consultation with emergency management professionals, would issue an Emergency Alert to racers and the public. Racers choosing not to race due to an alert would maintain their Priority Status the following year after notifying race officials in writing that they opted not to race in response to the Emergency Alert.
Back to top of page
How long do I have to complete the race?
All racers must meet the cutoff times to receive an official race finish.
Back to top of page
Can I give my race spot to someone else?
Absolutely not. Your bib number is assigned to you and belongs only to you. If you are unable to participate, you can not designate another individual to run in your place, nor can organizers open your spot for another applicant. Those who give their bib to an unregistered racer (a bandit) may be banned from future races (along with the bandit).
Back to top of page
What does the winner get?
The winner gets a trophy, bragging rights and free entry to future Mount Marathon Races. There is currently no cash or merchandise prize associated with the Mount Marathon Race.
Back to top of page
How is the race timed?
Mount Marathon Race results are recorded through electronic chip timing embedded in the race bib. Runners must ensure that their assigned timing chip is securely attached to their bib and that they cross over all start, top of mountain, and finish mats during the race to receive a valid race time.
Runners must have their bib and embedded timing chip when crossing the finish line. In the instance of a lost chip or malfunction, timers record the finish time and place by hand using the runner's bib number. Race officials can also override the chip in the event of malfunction.
Finish order is determined by chip time. A racer's chip time starts with the beginning of their wave, not when they pass over the start line.
For safety reasons, the timing crew will continue to track the bib numbers of runners who complete the course after the cutoff time. All runners who do not complete the race or finish after electronic chip timing has concluded for their division should notify a race official at the finish line, race headquarters or awards ceremony that they are safely off the mountain.
Results from Skinny Raven can be viewed through live timing (link posted on website). Final results will include the finishing time and place, as well as splits from mid-mountain and the top of the mountain (Race Point). Uphill and downhill splits will also be available.
Tips from our timer:
Do not fold or crumple your chip.
Do not remove the chip from the back of your bib.
The best place to wear your bib is on the front center of your torso, pinned securely on all four corners.
If you are not wearing a shirt, place your bib on the upper left leg with the number reading horizontally.
If your bib comes off during the race, carry it with you and display it as you cross the finish line.
Why is my race place different than what was posted on race day or in the newspaper?
Occasionally timing chips malfunction, so the initial results are unofficial. In the ensuing days, finishers are confirmed using a back-up timing system and results are updated to correct any errors from the unofficial results. Racers are also occasionally disqualified for various reasons. Once these steps are taken, the results become official.
Back to top of page
What time do I need to arrive?
Once you have your bib, you just need to be at the start line a few minutes before your race wave begins.
However, if you're traveling to Seward on July 3rd or 4th, it's a very busy time, with street-based activities scheduled throughout downtown. If you do not have lodging downtown, traffic and parking can pose a challenge. 4th Avenue and some downtown cross streets are blocked off beginning at 5 a.m. on July 4. Traffic into Seward is also very busy, particularly after 10 a.m. If you are able to arrive in time for the junior race start at 9:00 a.m., you will have the fewest problems.
Back to top of page
Should I spend the night in Seward?
Many runners spend the nights of July 3 and July 4 in Seward. Traffic into Seward on race day is very heavy and frequently backs up on the Seward Highway. The awards ceremony begins at 6 p.m. after the race and thins out thereafter. However, runners planning to leave Seward shortly after their race may face long traffic delays.
Runners and visitors who stay in Seward before the race can enjoy can Seward's fireworks at midnight on July 3. Those who stay a day longer can wind down with live music and good food and tackle the Seward Highway on a quieter day.
If you do plan to stay, be aware that lodging facilities, including local campgrounds, fill up months in advance. We recommend that you make reservations as soon as you learn that you are on the roster. Check out the Seward Chamber of Commerce lodging and campground list.
Back to top of page
What if I am injured during the race?
All racers are ultimately responsible for their own safety. Serious injury has occurred in past Mount Marathon Races. Runners who receive minor injuries generally finish the race. A first aid station is located at the finish line. Volunteers are also stationed along the mountain for all races and may be able to provide basic First Aid on site. For serious injuries on the mountain, the mountain safety crew communicates via radio with the Seward Volunteer Fire Department, the Seward Volunteer Ambulance Corps and other authorities as necessary for medical support and potential evacuation.
Back to top of page
What else is going on in Seward?
The Fourth of July Festival in Seward kicks off with fireworks at midnight at July 3. Once dawn breaks, street vendors begin selling food, gifts, and other Alaska items on Adams Street. Family activities are scheduled throughout the day – especially geared towards kids. The holiday parade is always a favorite along with the Mini-Marathon Race for 2-6-year-olds. For specifics and a schedule, be sure to check our Fourth of July information on this website or at seward.com
Back to top of page
Can I bring my dog to watch the race?
The Mount Marathon Race Committee and City of Seward have established a "no pets" policy for the race course and Fourth of July Festival. No dogs, leashed or unleashed, are allowed on 4th Avenue between Railway and Jefferson or along the race course in town and on the mountain. This policy increases safety for runners and spectators, and reduces problems with sanitation and clean-up. Please leave your pets at home.
Your pets are allowed in Seward; please just keep them off the race course and crowded downtown area.
Back to top of page
Slope Steepness Averages 34 Degrees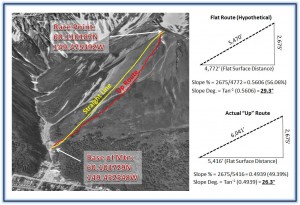 The actually steepness of Mount Marathon — from the base of the mountain to the lip of the mountain just before the turnaround rock — averages 34 degrees. Excluding the road approach, the vertical gain is about 2,675 feet in 0.9 miles.