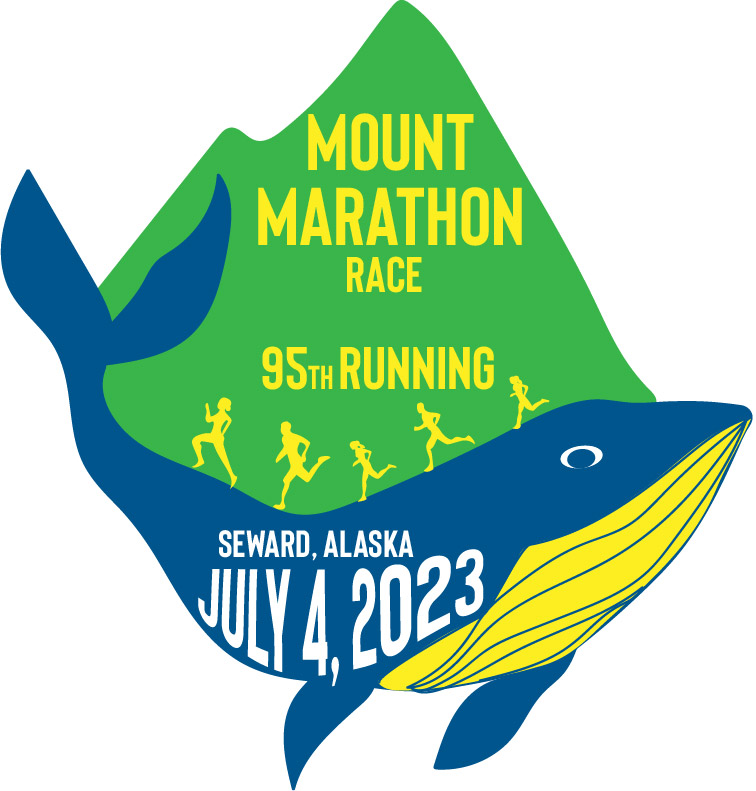 Danielle Sukhlall of Fairbanks is the winner of the 2023 Mount Marathon logo contest.
Her entry depicts five runners atop a whale with a steep mountain behind them. The Mount Marathon Race Committee chose it as their favorite among 23 entries.
The logo will be used on the 2023 racer and volunteer t-shirts, on this year's patch and for other promotional purposes.
Sukhlall discovered the contest somewhat by chance.
"I was looking on the (Mount Marathon) website to find more information on how to sign up to volunteer," Sukhlall said. "While I was looking at the website I came across the logo contest. I was so excited! I love graphic design so I saw this as a cool opportunity to challenge myself outside of work."
Sukhlall has lived in Fairbanks for three years, where she works as a broadcast journalist for the U.S. Air Force. A visit to Seward helped inspire the logo design.
"One of my favorite memories was seeing the whales during a boat excursion around the Kenai Fjords National Park," she said. "I grew up watching these videos of whales on the Discovery Channel but it was amazing and very different to experience in person. That experience is what made me want to incorporate a whale in my design. I wanted the design to be a mix of the land and sea since a huge part of Seward's beauty is also the sea animals that come with it."
Finalists in this year's contest included Jason Leslie of Seward, Rebecca Nyssen and Taylor Thorn.